Moon Audio: From the garage to the main stage
Started by a husband and wife team in their garage 15 years ago, Moon Audio is a leader in its field – but don't call it a 'mom & pop shop'. They found success building ultra-high-end silver audio cables for music lovers, audiophiles, sound recording engineers and producers who want to hear more nuance, detail and resolution in their original recordings.  They also make stock cables for JH Audio now used on stage by the likes of Beyoncé, Maroon 5, Bruce Springsteen, and The Pixies. Before long, they expanded into retailing high-end listening equipment online and have built a loyal, worldwide customer base.
This case study follows Moon Audio's journey :
Their host couldn't improve their speed
Downtime and outages became intolerable
The team took a leap of faith to find a new host
eBoundHost increased speed, conversion and SEO performance
Problem: Bad Speeds, Worse Communication
"our load times sucked, it was awful!"
In early 2016, co-owner Nichole Baird was unhappy with the speed of the Moon Audio site. Google Analytics showed average load times around 6 seconds. "We needed to get less than 2 seconds," but her hosting provider maintained it was actually 3 seconds. "They wouldn't ever say 'let's find a common way to measure this.' I never felt like I was on the same page as him…  I felt like I was at a disadvantage because I didn't speak his language well enough to ask the right question." Nothing improved, and eventually the host told Nichole "I've done everything I can do."
Frustrated by stagnating load times and stonewalling from her host, her site was deliberately taken down for over an hour over a domain mix-up while she was on vacation.  "I was in Nashville on vacation with my daughters, trying to relax, and… all of a sudden I was down."  Outages that long aren't easy to shrug off –  "literally, an hour for me could be $10,000…  we don't have small orders."
Lack of communication added insult to injury.  "… there was no apology, no nothing! … Our host routinely would take a day or two to get back to me, it was ridiculous!  The worst thing you can do is not answer your client when they've had a problem like that."  

"It's just like anything in life. If you can seek an expert, you're going to get so much farther ahead of the game."
Time For a Change  
Nichole was finally fed up with the poor communication, slow speeds, and downtime. She started working with her developer and SEO consultant to find a new hosting provider.  "We definitely looked at a couple other places.  And I probably have a company a week email us … we're constantly being bombarded."  After looking over numerous options, her developer mentioned eBoundHost, and her SEO consultant "Marty liked what he heard."
Marty had been pushing for a new hosting environment for months, and finally had high hopes for speed improvements.  Nichole found that in contrast with her old hosting provider, "[for] every question I had, the ebound team delivered a well-thought response that was thorough and didn't leave me wondering or asking for more details … It wasn't something [the eBoundHost team] did lightly – it was something they did sort of the way we make cables.  We hand craft our cables individually and customize them for each customer with the finest materials we can find, at a specific price point – we cater to their specific needs."  With her team on board for the change, they were ready to switch infrastructure providers.
Solution: Making the Switch to eBoundHost
Migrating to an eBoundHost JetRails® environment, "…was pretty seamless. We didn't have any problems when we did it."  eBoundHost's thorough approach to UAT (User Acceptance Testing) served to reassure the team as the new environment went live. "The exercise of going through and checking that everything is still working is great."
Resolution: Faster Speed, Faster Sales
The JetRails environment caused a sharp improvement.  Once the site and environment had gone through optimization, speed increased dramatically.  Load times dropped from nearly 8 seconds to below 1.2 – almost 7 times faster.  Time to First Byte and Speed Index, both key indicators for user experience, also decreased by similar factors.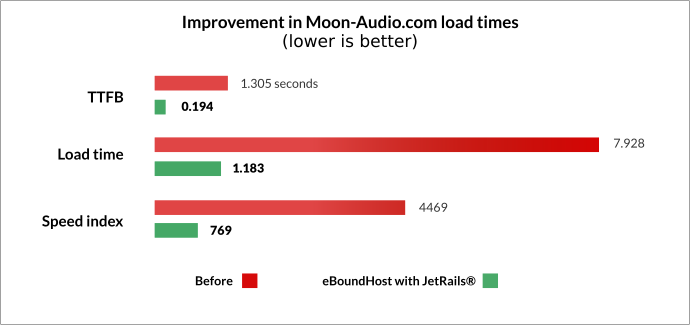 "My conversion has definitely improved.  I know it will continue to improve if I keep my load time below 2 seconds, which is the standard that Google has set."   Moon Audio caters to audiophiles, sound quality fanatics who "…want everything two weeks before they place the order".  Speed in all its activities is Moon Audio's "biggest advantage". 
The site also performs well under load – it maintains sub-2-second load times even with hundreds of users on the site simultaneously.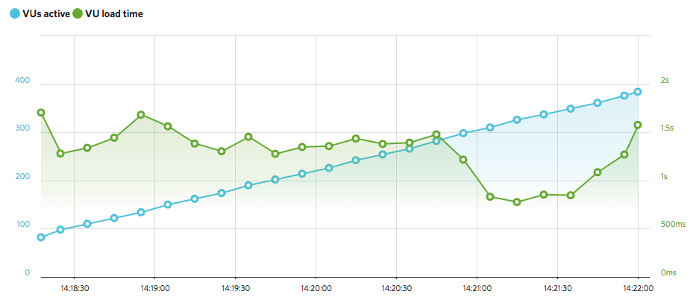 After going live with eBoundHost, the choice was clear in retrospect. "Speed is really important. And having a company that is an expert in Magento and speed is actually the way to go, instead of going with a smaller company that doesn't have expertise in your particular back-end framework. It's just like anything in life. If you can seek an expert, you're going to get so much farther ahead of the game."   
We couldn't agree more.  
If you're looking to improve your site performance or solve issues with your environment, we're always here to answer questions about Magento hosting and optimization. Get in touch anytime.